Do booking request for kayaks and camping gear

We don't ask for pre payment or a deposit.
You pay on spot with card or cash.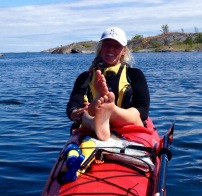 We know that everyone who book with us really wants to come and paddle in our beautiful archipelago. That's why we can have a simple booking cancellation policy.
You will never pay for anything that you haven't used

To cancel your planned kayak rental is of course boring. But we understand that it may happen things that are more important than paddling come in the way of your visit with us.
If you only inform us as soon as possible when your plans change, hopefully someone else will be happy to rent instead.
We always respond within 24 hours. If you have not received an answer, check the spam as it unfortunately ends up there from time to time.